"Renew Your wonders in this our day, as by a new Pentecost."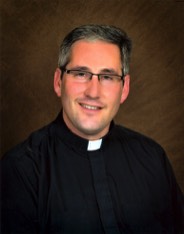 My name is Fr. James Northrop and I am a Roman Catholic priest serving within the Archdiocese of Seattle. I was ordained on June 7, 1997 by the late Archbishop Thomas J. Murphy.

I am currently the pastor of St. Thomas Parish in Tukwila, WA and the chaplain for Kennedy High School in Burien, WA.

My past parish assignments were:

St. Michael Parish, Olympia WA (1997-2000)

Sacred Heart Parish, Enumclaw, WA (2000-2005)

St. Brendan Parish, Bothell, WA (2005-2017)
Please take a few minutes to look around the website as I am constantly updating it. My hope is that it will give you a window into what a joy it is to serve the Lord as a Catholic priest.

"Be who God meant you to be and you will set the world on fire."
Background Music "Sometime He Calms The Storm" by Scott Krippayne