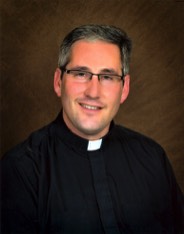 My name is Fr. James Northrop and I am a Roman Catholic priest serving within the Archdiocese of Seattle. I was ordained on June 7, 1997 by the late Archbishop Thomas J. Murphy.

I am currently the pastor of
St. Brendan parish
in Bothell, WA. I arrived in July of 2005. St. Brendan parish is a vibrant Catholic community and we also have a great school where we are able to educate children to be mature disciples who engage and transform the world through the grace of God in Jesus Christ.

My past parish assignments were:

St. Michael Parish, Olympia WA (1997-2000)

Sacred Heart Parish, Enumclaw, WA (2000-2005)

St. Brendan Parish, Bothell, WA (2005-Present)
I am also the Spiritual Director for
Western Washington Catholic Charismatic Renewal.


Please take a few minutes to look around the website as I am constantly updating it. My hope is that it will give you a window into what a joy it is to serve the Lord as a Catholic priest.

"Be who God meant you to be and you will set the world on fire."