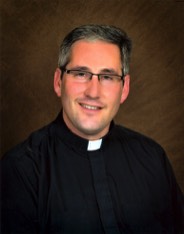 My name is Fr. James Northrop and I am a Roman Catholic priest serving within the Archdiocese of Seattle. I was ordained on June 7, 1997 by the late Archbishop Thomas J. Murphy.

I am currently the pastor of
St. Thomas parish in Tukwila and Our Lady of Lourdes in Seattle, WA
. I arrived on July 1of 2017.
My past parish assignments were:

St. Michael Parish, Olympia WA (1997-2000)

Sacred Heart Parish, Enumclaw, WA (2000-2005)

St. Brendan Parish, Bothell, WA (2005-2017)
I am also the Spiritual Director for
Western Washington Catholic Charismatic Renewal.


Please take a few minutes to look around the website as I am constantly updating it. My hope is that it will give you a window into what a joy it is to serve the Lord as a Catholic priest.


"And The Desert Will Bloom" Retreat
(June 24-26, 2018)
Join me at the beautiful Archbishop Brunett Retreat Center for a fun and inspiring weekend of talks, music, and prayer. Click HERE For More Information.
"Be who God meant you to be and you will set the world on fire."
Background Music: "Hear My Cry" by Graham Kendrick from the album Amazing Love